Welcome
How to Stay Connected
Staying connected is difficult right now; here are some tips to help.
Staying connected right now with friends can be tough. You can't go to your friend's house or see them at school. Birthdays are canceled. You've been stuck at your house with your family for weeks. What can you do to connect with your friends?
Keep it up. One of the most important things you can do right now is to keep doing what you've normally done. Digitally at least. Keep using the apps you already use to talk to and message your friends. Don't be afraid to reach out to people through those channels. They might not feel comfortable reaching out, and their normal interactions are gone for the time being, but they'd probably really appreciate getting a text message, gif, or phone call from you.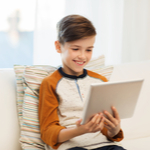 Don't get stuck. Just because one way of staying connected worked before this all started doesn't mean it works now. Find new ways to connect with friends. Most of the popular communication apps are good for one-on-one or small groups. Facebook, Google, Zoom—they all offer some group chat functionality.
Plan. You probably have more free time right now than you know what to do with. Use that time to think of some creative ways to group all your friends together. There are plenty of videos going around for inspiration: sports teams virtually passing to each other, symphonies playing together while apart. Think of something you and your friends can do. Who knows, it could become the next internet sensation.
Learn. As mentioned before, you probably have some extra free time. Use some of it to stay connected to learning. YouTube is full of cooking lessons, craft ideas, and just general knowledge. You don't have to walk away with a new skill. Maybe you learn more about a historical event or how bridges are built. There is an infinite amount of knowledge out there—go gain some of it!
Dance. There are a bunch of online dance parties happening right now. They're hosted on all sorts of meeting services and DJs are spinning live music to go along with the distance dance parties. Go join one. Even if it's just to experience something different from your normal day.
Focus. Schoolwork might be the last thing on your mind right now, but it's also an anchor to normality. Stay on top of your work. Not because you'll fall behind if you don't, but because the routine is good for you. With not much being normal right now, the normality of school is a solid way to keep your days straight and get a little social interaction when you can.
All in all, the goal is to stay connected to friends, family, and what you like to do.